---
SPECIAL ORDER FULLY PORTABLE 5.8mm DIAMETER VETERINARY VIDEO ENDOSCOPE
---
5.8mm VET VIDEOSCOPE EEV610FN
5.8mm diameter working tube x exclusive 1000mm length with 2.6mm instrument channel
This brand new fibrescope designed for small animal use with built in 3K LUX LED light + Video/Image recording on 16gb SD card in the 4″ monitor!
Touch screen control plus 480 x 480 resolution with 160,000 pixel view
Metal main body, 2-way articulation with 100/120 degree, suction and biopsy channels, 120 degree view
Biopsy, Grasping forceps, Cleaning brush, leak tester & cleaning kit plus a custom foam lined carry case included
This scope has a 2.6mm instrument channel for use with all 1.8mm or 2.4mm instruments.
OTHER SIZES AVAILABLE – ALL WITH 12 MONTH WARRANTY
3.8mm diameter x 1.2mm channel plus 4.8mm diameter x 2.2mm channel available with optional 60mm – 1000mm length
Delivery within 28 days of payment received

£4495 + vat
---
SPECIAL ORDER EQUINE OR SMALL ANIMAL FULLY PORTABLE VIDEOSCOPE – EE1500FPVS
1500mm L x 9mm D x 2.00 mm channel
Bright LED lamp and micro camera technology.
Auto focus function.
Power: DC5V
Display 4.5" LCD Monitor!
Interface Mini USB 2.0/ AV out
Battery Rechargeable Li-Polymer Battery (3.7V 3000mAh)
Video out format NTSC & PAL 
Recording medium 8G SD card (Up to 32G)
Video compression format MPEG4
SNAPSHOTS JPEG (1920*1080 to 1920 1080 ))
Video Recording BUILT IN
Field of view: 80°
Depth of field: 3mm-60mm
Outer diameter of the insertion tube: 9.0mm
Diameter of the instrument channel: 2.8mm
Bending angle: up: 210°; down: 90°; left: 100°; right: 100°
Light stick included
Leak tester included
Water via syringe for lens clearance
Effective working length: 1500mm
Total length: 1800mm
Total pixels: 300,000
Delivery within 21 days of pre paid order
£4995 + vat
---
ALSO A FULLY PORTABLE 3000mm EQUINE VIDEO GASTROSCOPE – EE3000FPVS
SPECIAL ORDER
SPECIFICATION AS THE 1500MM ABOVE BUT WITH 3000MM LENGTH x 12.9mm DIAMETER + 3.2mm INSTRUMENT CHANNEL
£5995 + vat
Delivery within 21 days of pre paid order
ALL THE ABOVE SPECIAL ORDER FULLY PORTABLE VIDEO ENDOSCOPES COME WITH A 12 MONTH WARRANTY (EXCLUDES ACCIDENTAL DAMAGE/USER ERROR) AND THE KIT SHOWN ABOVE
---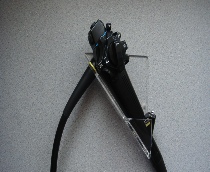 A simple Perspex wall holder to hang your gastroscopes correctly and avoid storage damage.
Now £39.00 + VAT
---
Eyepiece adapter for various fibrescopes
Use your fibrescope with your CAMERA
£95.00 + VAT