Accidents happen…
Rigid endoscopes, arthroscopes, laparoscopes etc, are prone to damage caused by slight bending of the working shaft during use or contact at the tip by various of the instruments used alongside the endoscope during procedures.
The working shaft contains many optical glass tubes called ROD RELAYS. Other optical parts keep the image in focus and the right way round for our eyes or a camera. Some of the various parts are shown above.
We can repair or replace most parts including laser welds.
We make sure it is cost effective to repair the rigid endoscope or we offer a 'repair replacement' which is discounted by taking in your old endoscope as part exchange.
We always use pristine new OEM manufacturer parts for your repair unless agreed with you in advance.
NEED A REPAIR?
Just contact me by phone or email and I will arrange an inspection process. All endoscope repairs will be estimated as soon as possible but we reserve the right to re-estimate should further work be discovered during the actual repair process once the endoscope is dismantled. Please send all items to the address shown on my contact page.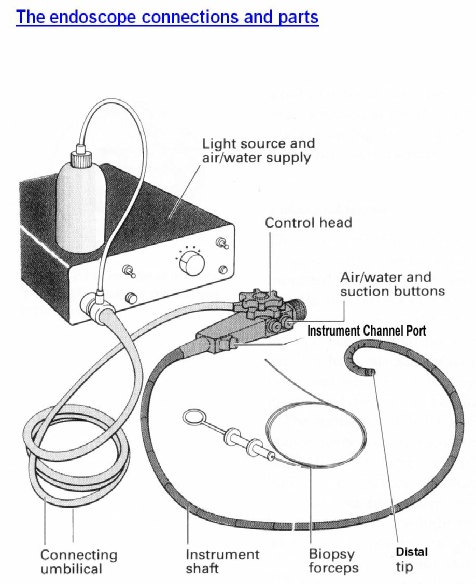 Flexible endoscopes, gastroscope's, bronchoscopes etc are also prone to handling damage.
We tend to forget that each endoscope has several hundred parts including a large number of rubber seals or 'O' rings, to keep the scope waterproof. Add to that 20 to 40,000 glass optic fibres for light and image transmission and you can easily see why damage can occur.
My cleaning and handling tips on this website are essential reading!  CLICK ON THE IMAGE BELOW
Every flexible endoscope MUST be leak tested prior to emersion in any fluids… if air can escape then fluids can get in… this will corrode essential internal parts and in the case of video endoscopes… kill the camera (CCD) module at the tip.